← Previous Onda DROP Bedroom WHITE
Next Onda LEGNO White Bedroom →
← →
You may also press keyboard arrows
or click at page corners for navigation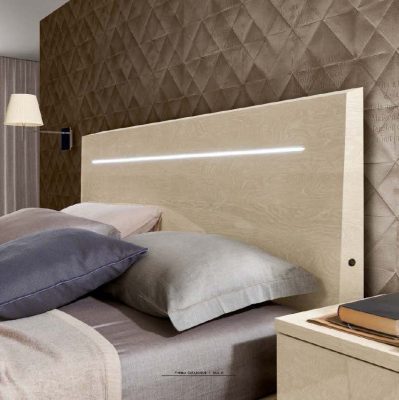 Wood, diamond shaped headboard withe LED courtesy light.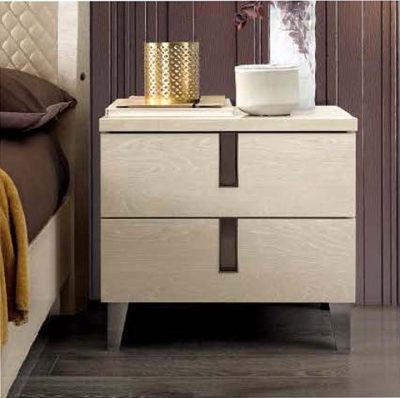 Elegant handle in a trendy Black Nickel finish, front recessed and embedded without the use of visible screws.
Tops 30mm. thick sanded and slightly rounded to ensure a pleasant softness. Elegantly clad drawers in ecological, scratch resistant material on soft closing Blum rollers.
Storage Kit available
Ambra Bedroom
Colors: Light Beige
Materials: Wood veneer, MDF
Finishes: High Gloss Lacquer
Item Description
Wooden Headboard bed with Lights Legno style with smaller night stands in stock and other headboard and night stands available for special order.
Shining surfaces and harmonious contrasts between the chiaroscuro of the birch and the depth of Black Nickel
details are the leit-motif of Ambra collection.
**NEW MIRROR DESIGN LIKE ON THE MAIN PICTURE
Finish : High gloss lacquered finish : High gloss polyester lacquer with anti- yellowing treatment with UV (ultra violet) drying process.
THE STORAGE KIT FOR BEDS PLATINUM , ONDA AND AMBRA ARE THE SAME DESIGN , CONSISTS OF : FRAME, MECHANISM AND FLOOR PANELS.
FLOOR PANELS ARE OF DIFFERENT COLOURS:
AMBRA – IVORY COLOUR
PLATINUM/ ONDA – BLACK COLOUR
Swatches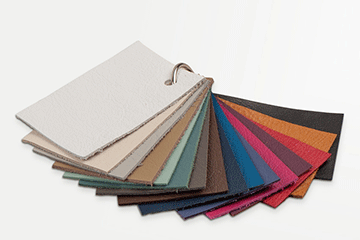 Camelgroup Swatches
Inventory is updated on 09/28/2023
The inventory quantities are subject to change, please call for more updated information