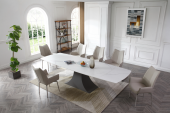 ← Previous 9437 Dining Table with 1218 swivel grey taupe chairs
Next Oxford 3 door Buffet Grey w/Mirror →
← →
You may also press keyboard arrows
or click at page corners for navigation
Picasso 3 Door Buffet
10% OFF!
$1050
$945
Colors: Brown/Walnut, Grey/Silver, Light Beige
Materials: MDF
Finishes: High Gloss Lacquer
Item Description
**Get three products from the sale section and enjoy additional 10% off **
MADE IN ITALY
Modern dining room furniture in warm beige-brown colors, will fits into the interiors designed in the modern style, loft or high-end.
Manufactured according to European and international standards.
Inventory is updated on 12/08/2023
The inventory quantities are subject to change, please call for more updated information