← Previous Dafne Bedroom Additional Items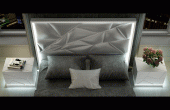 Next Kiu Bedroom Additional Items →
← →
You may also press keyboard arrows
or click at page corners for navigation
Georgia Vanity table comes with Lights, jewelries' organizers and side storage.
A comfortable armchair of great creativity and style. Padded seat cushions designed to hug the human form. Slipper storage under the seat makes this armchair unique.
Prestige CLASSIC Bedroom Additional Items
Colors: Special Order Colors, Brown/Wenge/Walnut
Materials: Wood-based panel, Stainless Steel, Special Order Materials
Finishes: High Gloss Lacquer, Special Order Finish
Item Description
Prestige Bedroom completes the Day collection with essential items to furnish your home with exclusive style. Georgia bed, elegant and sober, is also available with
upholstered headboard for a more sophisticated taste. Chromed details enrich. Georgia collection with a touch of impeccable charm and artistic distinctiveness. The Bedroom Set with Sleigh Bed consists of Queen Size Bed, Nightstand, Dresser and Mirror. The Bed is available in Queen and King Sizes. The 5-Drawer Chest is an optional items.Straight panels are in chipboard, then veneered (veneer being a thin layer of solid wood); then the veneers are lacquered using a 6 steps/layers of UV high gloss polyester lacquer. Manufactured according to European and international standards.
Status Italy
Inventory is updated on 01/28/2022
The inventory quantities are subject to change, please call for more updated information